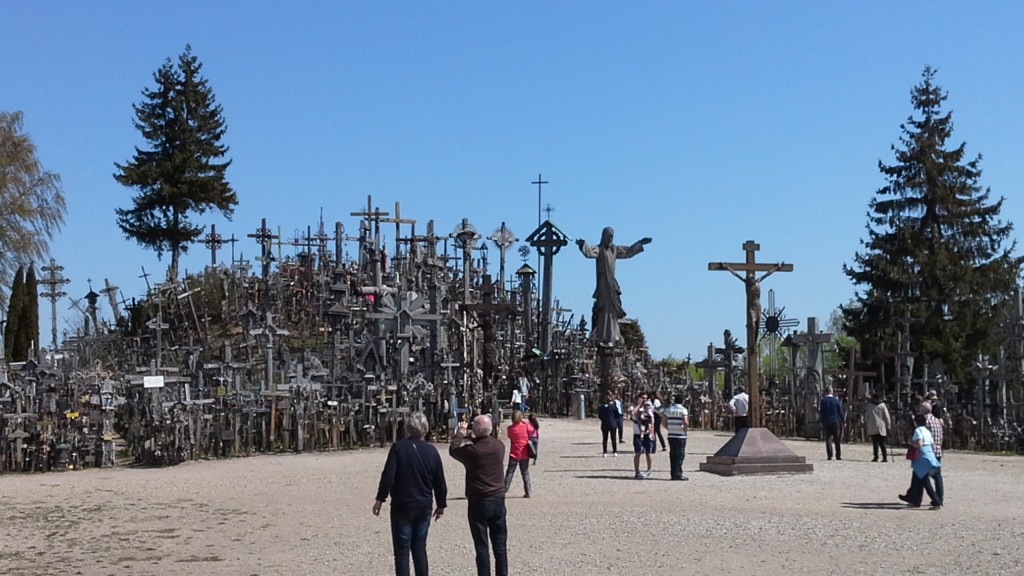 Lithuania is not a huge country and has good roads. I decided to rent a car for 24 hours (24 euro, unlimited mileage, basic insurance) and drive north of Kaunas. First stop was in the old town of Kieidanai (Kiejdany in Polish) connected also with history of Poland. Today Kiejdany can offer to the tourist many nicely restored old houses, churches and sinagogs. The old town is compact, so one hour was enough for visit and pictures.
Then I was driving about 100 kms to the Hill of the Crosses near Szawle. It is unique place. Imagine small hill completly covered by crosses of different size. Pilgrims from Lithuania and abroad are bringing them here since 19th century. Very interesting place, but today there were more tourists then pilgrims. Sorry, I do not like the noisy crowd.
In the afternoon I was driving back – south via Panevezis (Poniewiez) -quite a big town with few nice churches. It was lovely, sunny day and I enjoyed the landscape of forests and lakes and the local people.
Main street of the old town in Kiejdany: