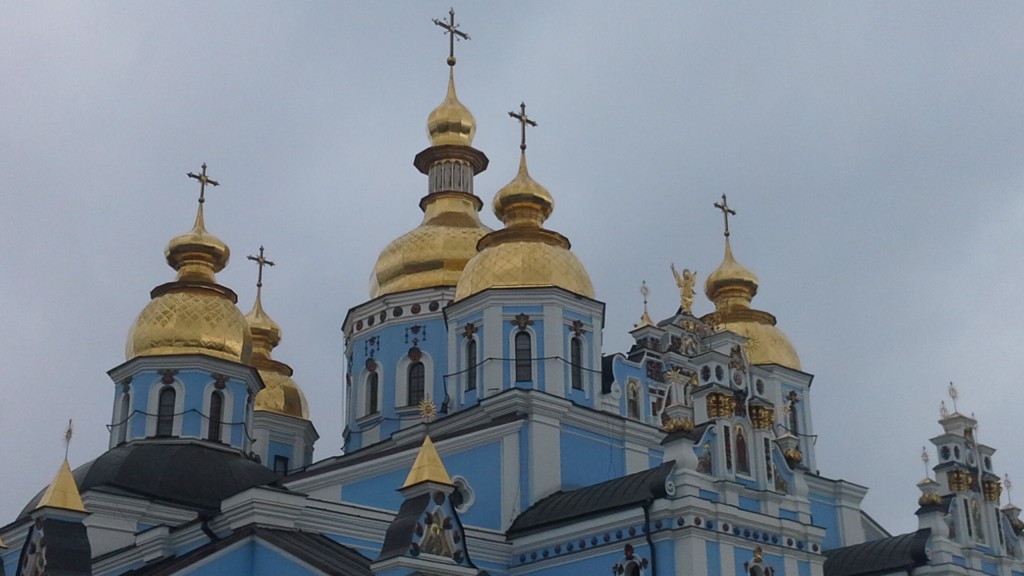 Cloudy day, it is raining from time to time, but I took the walk through the center of Kiev. On the streets you still hear mostly Russian language. This is the result of the decades of soviet domination. It is not far from my mini-hotel to St Sophia monastery converted into museum. Entry fee is 80 hr if you want to see ornate church or 20 just for the courtyard.
Famous Michaylovski Golden Domed Monastery is visible from the St Sophia gate. This moonastery still works and you can visit for free nicely painted church. From Michaylovski it is already not far to the heart of Kiev – well known Maidan or Independency Square with high column and nice fountains. Kreshchatik – the main street of Kiev goes from the square to the south.
My Ukrainien friends showed me also Andreyevski Uzviz – very seep and picturesque street of the old town going down to the river.
In the evening at their home I was giving a slide-show about my traveling through the world. We had a great time. Very hearty people!
On the streets of Kiev they sell coffee in the mobile double-deckers. The  police is coming for the coffee too – see the picture below: